The practice of using single point rubrics is slowly but surely catching on. The simplicity of these rubrics — with just a single column of criteria, rather than a full menu of performance levels — offers a whole host of benefits:
Teachers find them easier and faster to create, because they no longer have to spend precious time thinking up all the different ways students could fail to meet expectations.
Students find them easier to read when preparing an assignment. With only the target expectations to focus on, they are more likely to read those expectations.
They allow for higher-quality feedback, because teachers must specify key problem areas and notable areas of excellence for that particular student, rather than choosing from a list of generic descriptions.
Want to Learn More?
I first talked about this type of rubric in an earlier post (Know Your Terms: Holistic, Analytic, and Single-Point Rubrics). If this is the first time you've encountered this type of rubric, reading this will give you some background knowledge on all the different types of rubrics and why the single-point deserves world domination.
To give credit where it's due, I did not come up with the name single point rubric. Although the idea for a simplified rubric with a single set of criteria came to me independently, when I went looking for academic support for its use, I found that the type of rubric I had in mind was given the name "Single Point Rubric" in 2000 during a conference presentation by someone named Mary Dietz. Attending that conference was a researcher named Jarene Fluckiger, who published a study on its effectiveness in 2010. (The reference to Dietz is in Fluckiger's paper, but no one named Dietz has published anything on the topic.)
Show Us Your Rubrics!
I urge you to take one of your most convoluted rubrics and make a single-point version of it. Then show it to the world, so other teachers can learn: Take a screenshot of it and post the picture on Twitter with the hashtag #singlepointrubric. If you aren't on Twitter or don't feel like doing this, just put a link to your rubric in the comments below. Help us start a movement to rid the world of ineffective rubrics!
---
Another Variation (Added in 2017)
After considering some of the limitations of this format, I played around with the rubric a bit more and came up with this variation:
The original version of the single point rubric allowed no space for actually pointing out when the student hit the standard, apart from maybe circling or highlighting the middle column. With this format, teachers can pinpoint where the student is on each descriptor, then offer feedback, either constructive, positive, or both.
To grab a copy of this for your own modification, click here.
---
Need Ready-Made Rubrics?
My Rubric Pack gives you four different designs in Microsoft Word and Google Docs formats. It also comes with video tutorials to show you how to customize them for any need, plus a Teacher's Manual to help you understand the pros and cons of each style. Check it out here: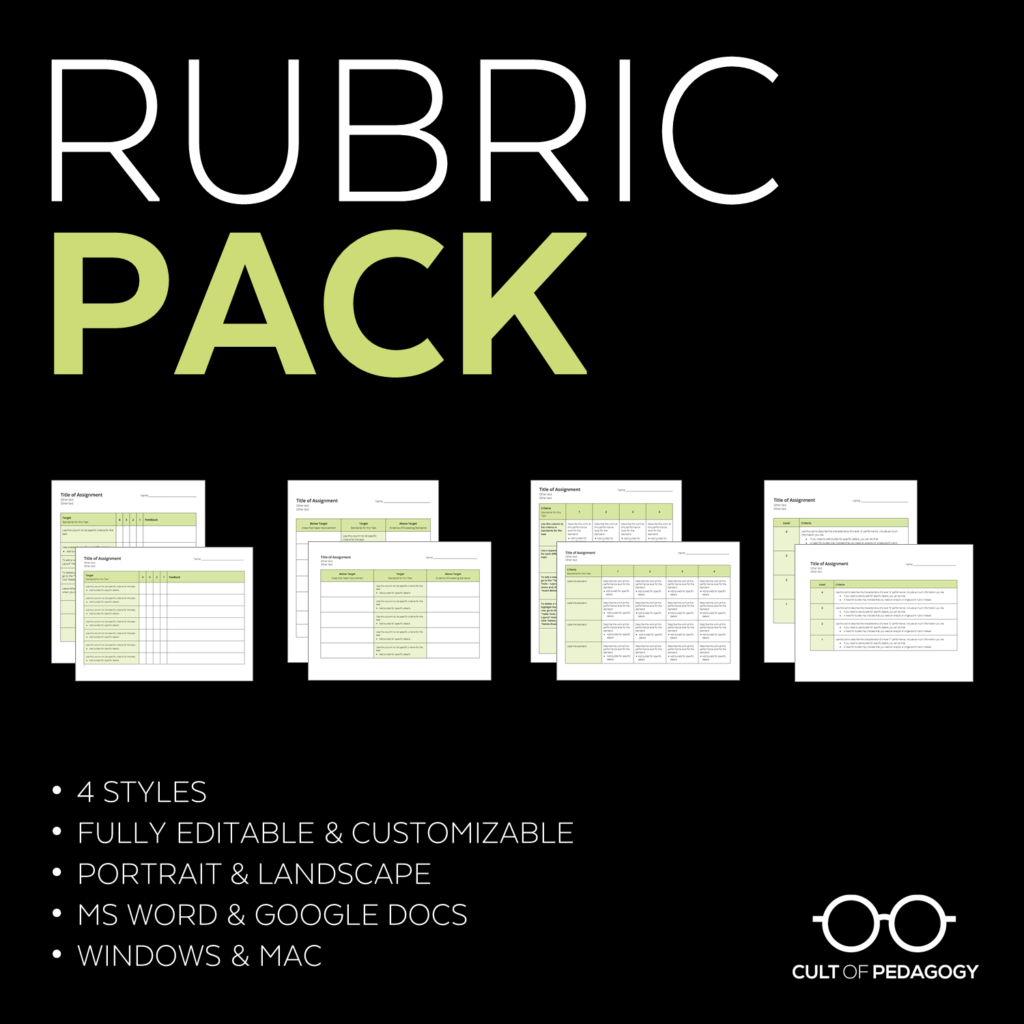 ---
Stick around.
Join my mailing list
and never miss another post. You'll get weekly tips, tools, and inspiration — in quick, bite-sized packages — all geared toward making your teaching more effective and joyful. To thank you, I'll send you a free copy of my new e-booklet,
20 Ways to Cut Your Grading Time in Half
. I look forward to getting to know you better!