I talk to a LOT of teachers. I know the problems you're struggling with. And for many of these problems, I've been able to develop products, write books, create courses, or put together blog posts that serve as solutions. Even when the global pandemic hit in 2020, I was able to look around for people who were figuring out how to keep teaching well even under crazy circumstances.
But there's always been one problem—the absolute worst, most often mentioned issue—that I couldn't solve.
Time.
You just don't have enough of it. You stay up late and get up early. You go into school on weekends and bring work home at night. You cut back on sleep. You skip out on exercise, you don't eat as healthy as you should, and your loved ones don't get the attention they need, because teaching-related duties have a way of filling up all available time, and even after you've worked as hard and as long as you possibly can, you're still never done.
That was me. It's the reason I ended up leaving teaching and the reason so many others do, too.
And until now, I had no answers for you.
No matter how many great strategies I shared, how many cool tech tools I showed you, how many classroom management tips I gave or experts I interviewed, none of those things solved the time problem. I always figured that unless I could somehow get your district or state to drastically change its policies—which is actually the source of the problem—I could do nothing to help you in that area.
But in the Fall of 2015, all of that changed.
It changed when my friend Angela Watson developed a year-long program called the 40-Hour Teacher Workweek Club*. Her goal was to help teachers drastically cut back on the amount of time they spent each week on teaching, allowing them to give more time to their families and friends, to their much-neglected homes, to their very neglected health, and even to their personal interests (imagine that!). Would they all cut their workweek down to 40 hours? Some might, but most would just whittle their total work hours to something far more reasonable, far more balanced than what they were doing right now.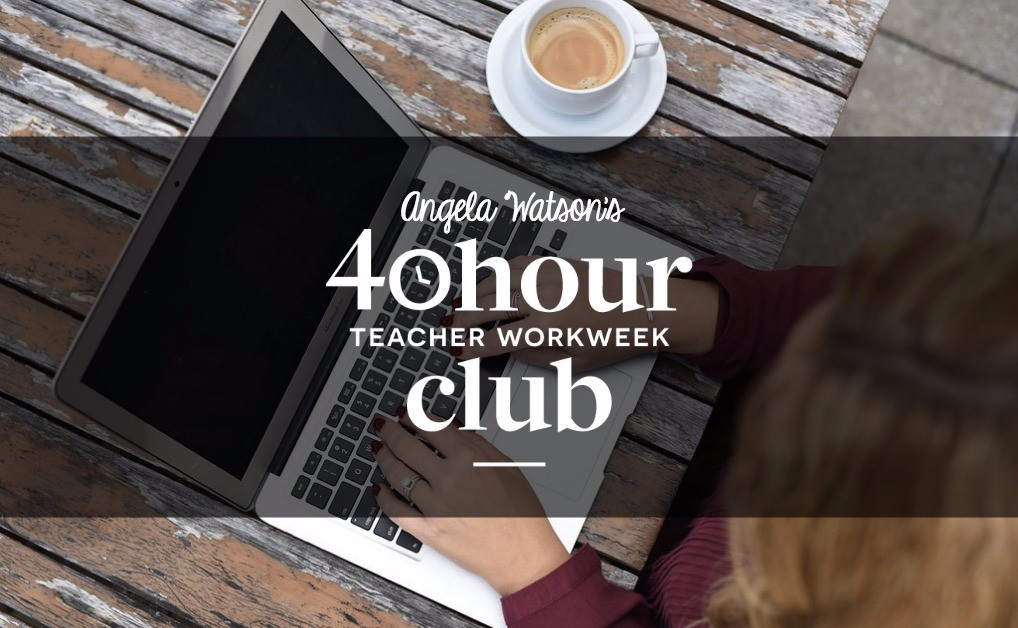 Angela had spent years researching productivity and time management.
She had discovered principles and practices that had helped her balance work with other priorities, and she wanted to share these concepts with teachers, but she could never figure out the right way to deliver it.
If she wrote a book, she knew time-strapped teachers would never find the time to read it. On top of that, she recognized that making the necessary changes to bring more balance into a person's life couldn't happen overnight; it needed to be done gradually, over time.
So she decided that the best way for teachers to absorb the ideas she wanted to teach was to do it a little at a time, over the course of a year. Once a week, she would send an email teaching members how to shave a little bit more time off their workweek. If members didn't have time to read, they could download an audio version of the week's content. The email would also contain links to downloadable forms and other materials that would save members even more time.
Each month, the club would focus on a different area—one month on grading, another on technology, another on classroom management and design—so that members could make real changes in each area before moving on to another.
The club would also include ongoing support in a private Facebook group, where members could strategize together, encourage each other, and offer advice for specific situations.
With this model in place, Angela started with her first club cohort in October of 2015. The results have been phenomenal.
Club members are experiencing work-life balance for the first time in their careers. They report schoolwork-free evenings and weekends, spending more time with their kids, spouses, and extended family, eating right and exercising regularly for the first time in years, and really enjoying their work, rather than constantly feeling stressed by it.
In the years since the club started, thousands of teachers have joined, and so many of them are calling it the best decision they ever made. Teachers who were ready to quit are now feeling revitalized and excited about teaching again—including those who joined the club in remote and hybrid teaching situations.
Let me say one more thing about Angela.
A few years ago, I read her book, Awakened: Change Your Mindset to Transform Your Teaching, and it made such a difference to the way I looked at my day-to-day interactions and challenges. After reading it, I found myself handling stress so much more effectively. You can read more about that here. So before I even knew her, I already believed that Angela was a wise, insightful person who truly understood what teachers are going through.
Over the next year, Angela and I ended up connecting through a blogging group. We got to know each other very well, and now we talk through Voxer several times a week. I now consider her a good friend, and I know how hard she has worked to make this program outstanding—I've seen how many times she's revised and updated it to reflect current needs and practices, and how carefully she considers every bit of feedback she gets. So now I not only respect her as a professional, I feel doubly confident recommending her club to you because I have been behind the scenes. I have seen members' results, I have seen the excellent quality of the club content, and I know the person in charge. It's as much of a sure thing as I can recommend.
Now I want you to experience the same benefits as other club members.
As far as I'm concerned, I no longer need to look for ways to solve the teacher time problem, because the best possible solution is this club. All I have to do now is tell you I think this one of the most important investments you can make in your career. For some of you, it may even save a career you were about ready to leave.
Click Here to Learn More About the Club
---
*I am an affiliate for the 40 Hour Teacher Workweek Club. That means if you decide to join after visiting the club through my link, I will get a small commission for referring you. That's just Angela's way of thanking me for letting you know about the club.
---