Every book I feature on this site has been read and carefully reviewed, and I highly recommend each one. If I don't like a book or think it will be useful to teachers, I just won't review it. If you click on the "Buy Now" affiliate link, you will be taken to that book's Amazon order page (for most titles), where you can order the book and I will get a very small commission for letting you know about it — thank you!!
Teaching College: The Ultimate Guide to Lecturing, Presenting, and Engaging Students (2017)
by Norman Eng
Good Thinking: Teaching Argument, Persuasion, and Reasoning (2016)
by Erik Palmer
The Classroom Chef: Sharpen Your Lessons, Season Your Classes, Make Math Meaningful (2016)
by John Stevens & Matt Vaudrey
Pushout: The Criminalization of Black Girls in Schools (2016)
by Monique Morris
Visible Learning for Teachers: Maximizing Impact on Learning (2011)
by John Hattie
The Gift of Failure: How the Best Parents Learn to Let Go So Their Children Can Succeed (2015)
by Jessica Lahey
Focus: Elevating the Essentials to Radically Improve Student Learning (2011)
by Mike Schmoker
Hacking Education: 10 Quick Fixes for Every School (2015)
by Mark Barnes and Jennifer Gonzalez
Make It Stick: The Science of Successful Learning (2014)
by Peter Brown, Henry Roediger, and Mark McDaniel
Buy Now
Unshakeable: 20 Ways to Enjoy Teaching Every Day…No Matter What (2015)
by Angela Watson
Buy Now
The Teacher's Guide to Tech: A Cult of Pedagogy Digital Binder (2015)
by Jennifer Gonzalez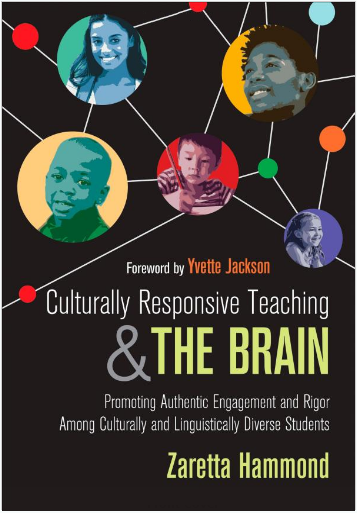 Culturally Responsive Teaching and the Brain: Promoting Authentic Engagement and Rigor Among Culturally and Linguistically Diverse Students (2014)
by Zaretta Hammond
A Non-Freaked Out Guide to Teaching the Common Core: Using the 32 Literacy Anchor Standards to Develop College- and Career-Ready Students (2014)
by Dave Stuart, Jr.
You've Gotta Connect: Building Relationships that Lead to Engaged Students, Productive Classrooms, and Higher Achievement (2014)
by James Sturtevant
Teach, Breathe, Learn: Mindfulness in and out of the Classroom (2014)
by Meena Srinivasan
Buy Now
Awakened: Change Your Mindset to Transform Your Teaching (2011)
by Angela Watson
Buy Now
Teaching Digital Natives: Partnering for Real Learning (2010)
by Marc Prensky
See Our Book Study of this Title
Buy Now
Understanding by Design (2005)
by Grant Wiggins and Jay McTighe
See Our Book Study of this Title
Buy Now
The Strategic Teacher (2007)
by Harvey Silver, Richard Strong, and Matthew Perini
Strategies I've Explored from This Book
Buy Now
This Is Not a Test: A New  Narrative on Race, Class and Education (2014)
by José Vilson
Buy Now
The Reason I Jump: The Inner Voice of a Thirteen-Year-Old Boy with Autism (2013)
by Naoki Higashida
Buy Now
Start Where You Are, But Don't Stay There: Understanding Diversity, Opportunity Gaps, and Teaching in Today's Classrooms (2010)
by H. Richard Milner IV
Reign of Error: The Hoax of the Privatization Movement and the Danger to America's Public Schools (2013)
by Diane Ravitch
Buy Now
The Best-Kept Teaching Secret: How Written Conversations Engage Kids, Activate Learning, and Grow Fluent Writers, K-12 (2013)
by Harvey "Smokey" Daniels and Elaine Daniels
Presentation Zen: Simple Ideas on Presentation Design and Delivery (2008, 2011)
by Garr Reynolds
Buy Now
How to Talk So Kids Can Learn: At Home and in School (1996)
by Adele Faber and Elaine Mazlish
Buy Now