We've all been there: Only a few days into a unit of instruction, and already things are getting messy. Two students were absent on day one, so they missed the awesome introductory activity you did with everyone else. Another group is having a hard time understanding the content and needs a review. Meanwhile, you have a few students who already know a ton about this topic and are completing everything you give them in record time. And a school assembly tomorrow is about to throw things even more out of alignment.
It's so hard to keep all of your students in lockstep with their learning. Not only is it impossible to do—it's not good for them. We know that no two students learn at exactly the same pace; unfortunately, most teachers work in a system that offers no other realistic options, so we keep trying to achieve that unattainable, pointless goal.
The good news is, another option has arrived, and not only is it realistic, it can be done in any classroom and it will actually give you more time to teach.
What is the Modern Classrooms Project?
The Modern Classrooms Project is a nonprofit organization that helps teachers implement an instructional model where students work through course material at their own pace. The model is built on blended learning, and it's mastery-based—students only move on to new material once they've reached a certain level of mastery. This video shows you how it works:
If you've been a Cult of Pedagogy reader for some time, and some of this sounds familiar, it's probably because we have featured Modern Classrooms' co-founder, Kareem Farah, in three of our blog posts and podcast episodes—he's the only person who has been a guest three different times! When we stumbled on his work in early 2020, we knew his model was going to be a game-changer for education and asked to feature the Modern Classrooms approach on our site.
In this video, Farah discusses how Modern Classrooms began and gives you a look at the model in real classrooms:
What if you teach younger kids? Can this model still work in an elementary setting? Watch:
Teacher Testimonials
Over 38,000 teachers all over the world have started using the Modern Classrooms method, and they're getting fantastic results. Here's what just a few of them have to say about their experience: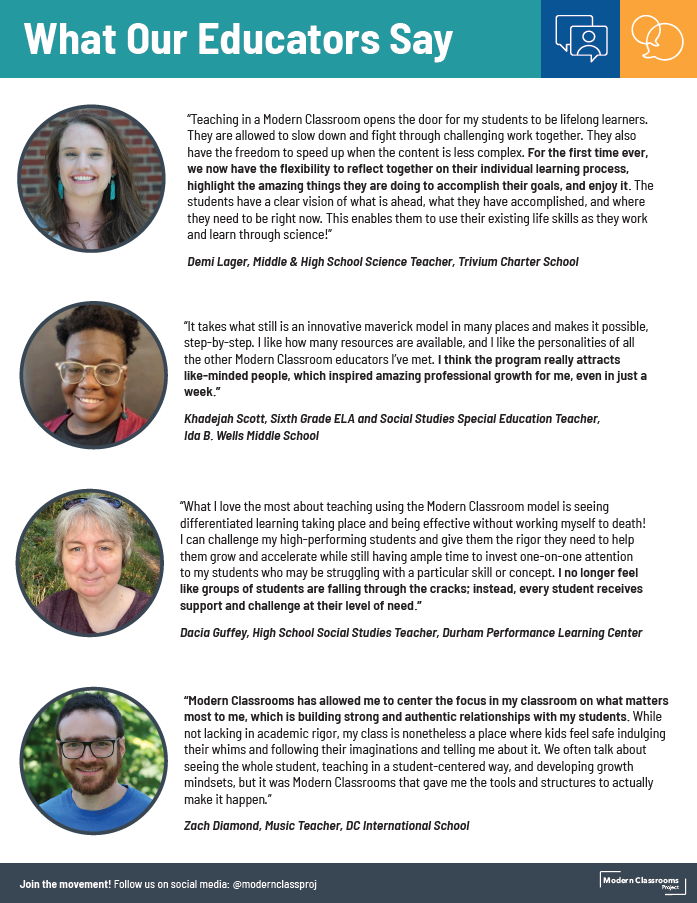 ---
Ways to Get Started
Option 1: The Free Course
The Modern Classrooms Essentials course gives you everything you need to launch the model on your own. With video tutorials, exemplars, and templates, you'll be able to learn about the model at your own pace.
Learn More About the Free Course
Option 2: The Virtual Mentorship Program
The Mentorship Program offers support and structure that will ensure you implement the model successfully. When you enroll in this asynchronous, self-paced program, you'll be put into a cohort with other teachers and paired with a Modern Classrooms Mentor to receive personalized coaching, feedback on lesson materials, and access to a private network of Modern Classroom educators.
Mentorship is offered in two formats: The 5-week Summer Institute is an intensive workshop over the summer, providing individualized coaching from an expert mentor, live presentations, small-group discussions, and regular office hours. What's great about the Summer Institute is that it allows you to fully focus on preparing to launch the model in your classroom when the new school year starts.
If the Summer Institute doesn't fit into your schedule, you can enroll in one of the 3-month Virtual Mentorship cohorts that take place during the school year. These offer the same support as the Summer Institute spread out a little more over time.
The button below will take you to a page where you can choose either option. The cost for the 2023 program is $750 per teacher, but if you use the Cult of Pedagogy enrollment form (through the button below), you'll receive a $200 discount.
Learn More About the Virtual Mentorship Program
---
Cult of Pedagogy is an affiliate of the Modern Classrooms Project. We receive a small percentage of every sale that comes through our links. We only become affiliates for organizations whose missions we believe in and whose products we feel are the best quality.
---