"in balance" by glasseyes view is licensed under CC BY-SA 2.0
---
This is the third installment in a year-long series of written and video diary entries by Shelby Denhof, who is letting us follow her first year of teaching. To see all entries, click here.
---
It's been months since my last entry. Months.
When the school year started, I told myself that I need to focus on one thing at a time, not stretch myself too thinly. But even as I type this, my mind is racing—I need to grade those articles of the week; I should apply for that summer program; I can't forget to finish up my grant proposal; I should really read the next book I'll be teaching in a few short weeks. It's come to a point where I have so many projects to be working on, I find myself not working on any. I tell myself that there's still time to do it all, justifying this procrastinating by saying I deserve to have fun. The problem, though, is that it's hard to have fun with all of this mulling in the back of my head.
Needless to say, I'm not doing the best at time management.
These past two months have been a series of highs and lows in terms of balance.
The successes:
Getting enough sleep: I'm a stickler about hitting the sack by 9:30. I'm convinced that I'm only able to maintain a level of sanity because of this.
Bonding with the staff: As the only new teacher to the school, I'm the odd one out (not to mention I'm the youngest teacher by ten years). But I've gone out of my way to be social in and out of school, making work a welcoming environment.
Incorporating fun into the classroom: I teach seventh graders, so they want to talk all the time and they want to move all the time. Games are an integral part of my classroom. I explain one of my favorite review games in my video below.
The failures:
Keeping up with the grading: I put it off and then I regret it as the pile starts to build. But then I do it again. It's a soul-crushing cycle of neglect.
Wasting my prep hour: Somehow I find myself doing laps around the school. I think it has to do with my lunch feeding into my prep, so it feels like one long relaxation period when I could be using that time much more efficiently (to be fair, though, this failure is how I accomplish Success #2).
Not getting far enough ahead with planning: I have these grandiose goals of planning out things that I will be doing in a month, but realistically, I plan week-by-week.
Even with all of the craziness that comes with teaching, my goal from the start has been to preserve a high quality of life: to be a present girlfriend, to go out and have spontaneous fun, to see and stay in touch with friends. I have to be intentional about these things because I can lose myself in my work, tackling project after project. I'm afraid of having my work-life balance out of whack again, but it sure is a struggle to balance both sides of the scale. I'm still working on finding that sweet spot.
Over break, I'd wholeheartedly stocked up on restful, lovely, and simple joys. I even did the seemingly impossible—one day, I stayed in bed all morning reading. I woke up, opened the blinds, grabbed my new book, and read until the last page. It was such a treat to have that kind of time. As break winds down, though, those moments disappear as my to-do list gets longer. It still feels heavy and the stress manifests itself in subtle ways. Many nights, I have a hard time sleeping and I can guarantee I'll dream about work (which is super lame).
Even with that to-do list, even with the intermittent stress, even with those moments where I feel like I don't know what the heck I'm doing, I love my job. I love it, and I know finding this work-life balance is something that will take time. While I figure it out, though, I know I'll give my best to both parts of my life. Right before we went on break, one of my students wrote me a letter: "I really like how you are so kind and open," she explained. "That's the big reason why this is my favorite class… it's the way you teach it!!"
That right there is the motivation to make anything happen. ♦
---
---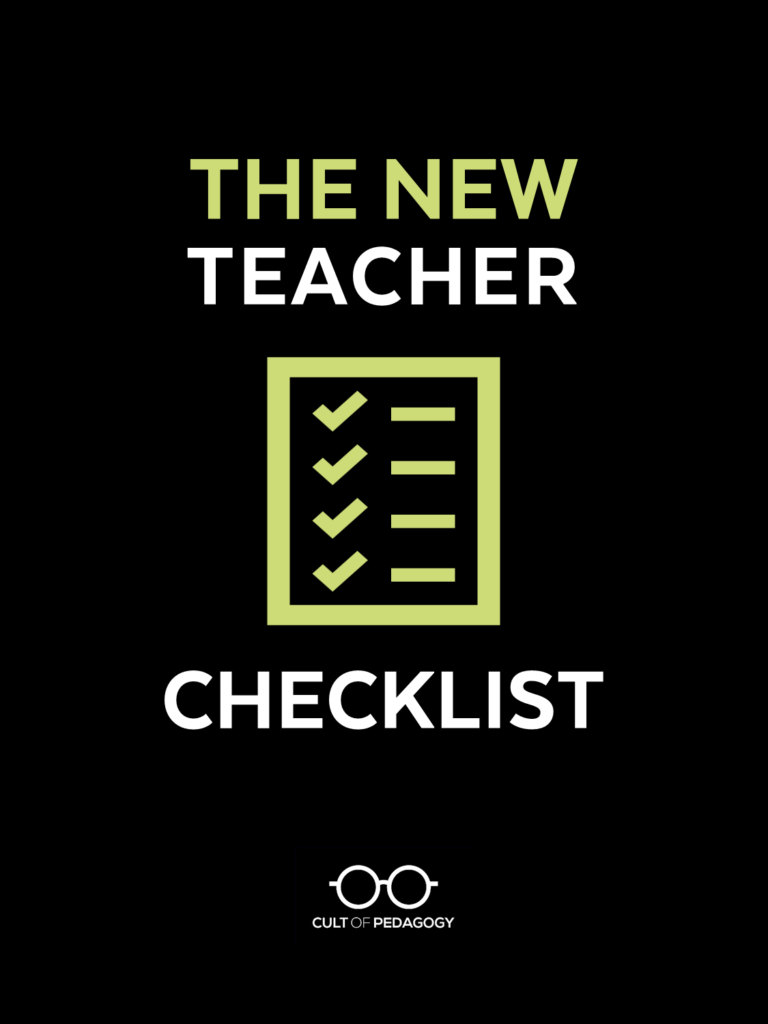 If you're a new teacher, the Cult of Pedagogy 
New Teacher Checklist
will provide a structure to follow as you progress through the school year. To download a free copy, just 
sign up for my mailing list
. You'll get the checklist, plus all the other free downloads in my Members-Only Library. (If you're already a subscriber and want this resource, just check your most recent email for a link to the Members-Only Library!)