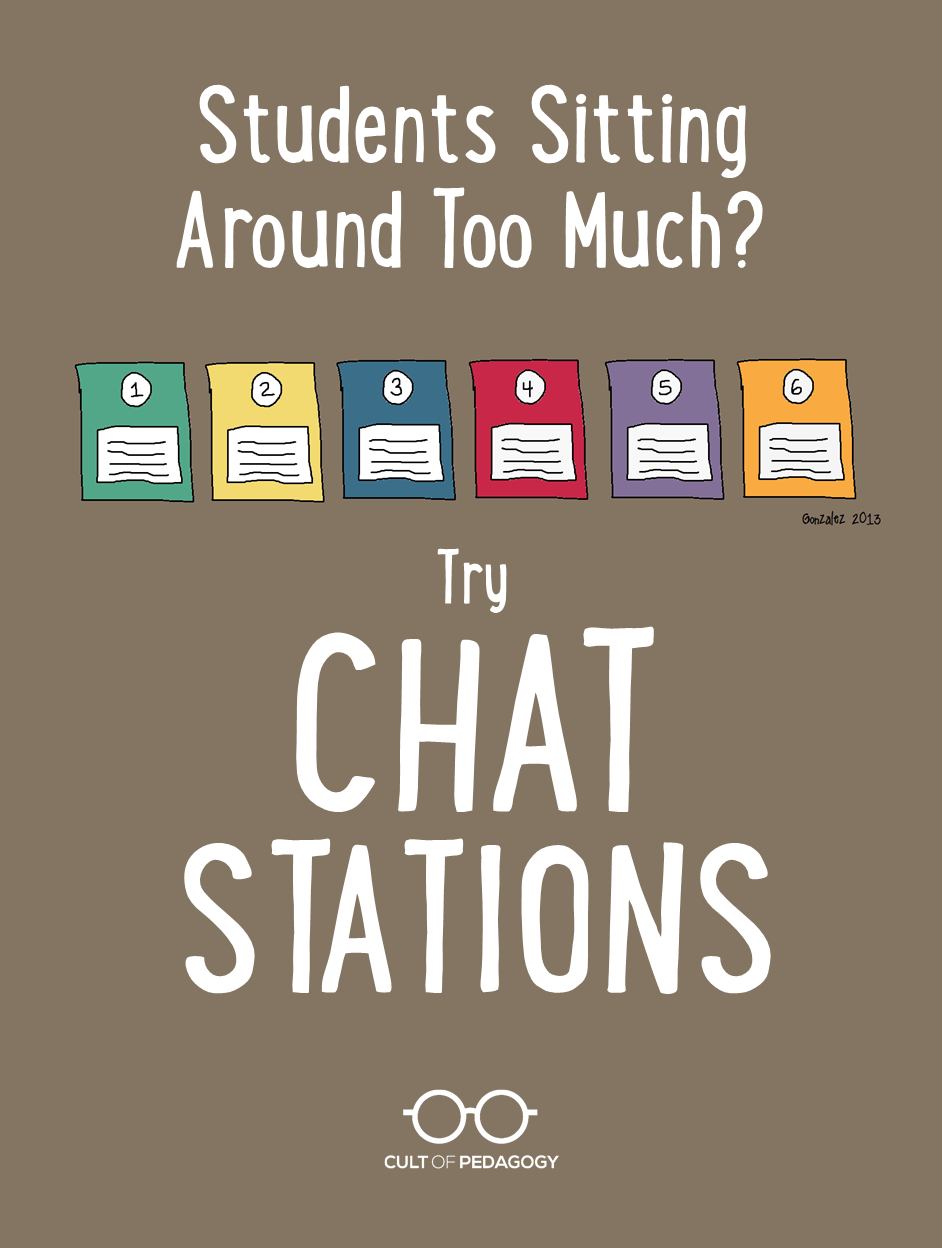 You've probably heard of—and maybe used—learning stations in your classroom. With stations, teachers set up activities around their rooms, then have students rotate from station to station, performing each task. They are a wonderful way to provide variety and engagement in your classroom.
There's only one real downside to stations—they take a LOT of time to set up. And because we're all short on time, we may not use stations as often as we could.
So today I'm proposing a watered-down version of stations that keeps the movement, interactivity and variety while minimizing the prep work. I'm calling these "Chat Stations," discussion prompts that students visit just like stations, but instead of performing a complex task, they just have a quick discussion. Chat Stations are incredibly flexible: They can be used for test reviews, ethical debates, exploring new material, even analyzing literature.
On top of their flexibility as a cooperative learning tool, Chat Stations can also dramatically improve whole-class discussions. Because students have fully explored each issue in the less-threatening Chat Station setting, they will be better prepared to participate in a larger class discussion next. And as we explored in a previous post, we need to do more to engage our less talkative students. Chat Stations offer another way to get them more involved.
Here's a video demonstrating how Chat Stations work:
The more traditional kinds of stations—where students perform more complex or hands-on work—are still the gold standard for student engagement, but Chat Stations can be a great strategy for those times when you haven't been able to prepare a "real" station. They still get students up and moving and breathe new life into your content. And there's really no limit to how challenging your questions can be.
I'm pretty sure I haven't invented anything new here, so if you're doing something like this and have a tip or suggestion to add, please comment below.  If you try this for the first time, please share your experiences with us. ♦
Stay in touch.
Join my mailing list
and never miss another post. You'll get weekly tips, tools, and inspiration — in quick, bite-sized packages — all geared toward making your teaching more effective and joyful. To thank you, I'll send you a free copy of my new e-booklet,
20 Ways to Cut Your Grading Time in Half
. I look forward to getting to know you better!