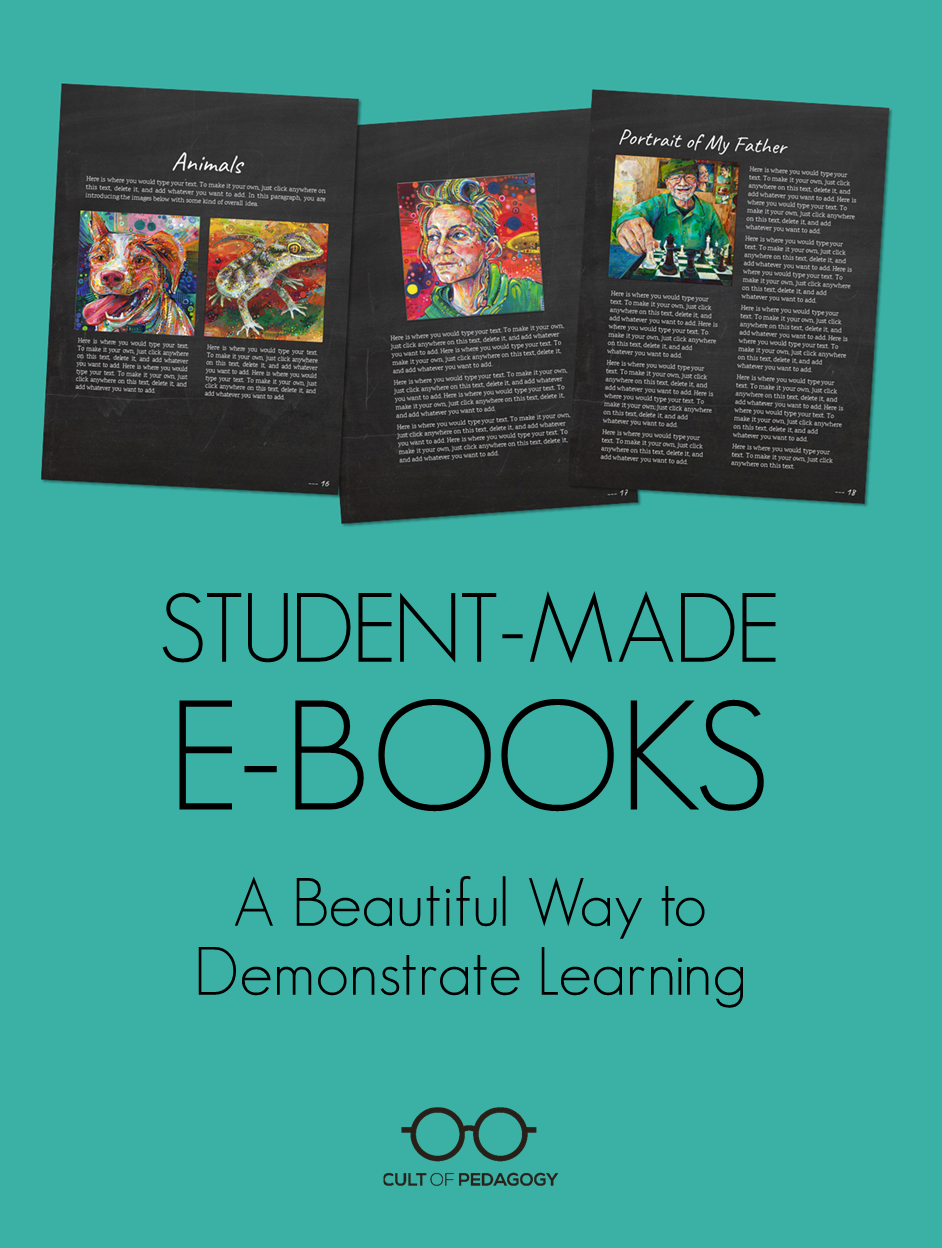 ---
Listen to this post as a podcast:
---
You've reached the end of a unit or year, and you want students to demonstrate their learning in a way that requires them to synthesize information, apply it in new ways, and reflect on how they have grown. To achieve any of these goals, an end-of-unit exam doesn't quite cut it. You could have students do presentations…that's always an option. But here's one more: Have students create their own PDF e-books, packaging up some aspect of their learning into a finished digital product they can enjoy and share for years.
What Kind of E-Book Are We Talking About?
When you hear the term "e-book," you might be thinking about the kind of thing you can read on a Kindle or Nook, and yes, those are e-books. But a broader definition includes PDF files, which don't require any kind of special device to read. They also don't require any high-tech software to create; I'll show you how that works in a minute.
To get these templates, see the link at the end of this post.
Because this kind of e-book is ridiculously easy to create, having students make them is an excellent option for all kinds of final projects. And because lots of businesses now use e-books like these in their own work, assigning them to students gives them an extra skill they can take into their adult lives.
The Power of Visual Packaging
For some students, having an opportunity to put their words together with images and arrange it all into one tidy package creates a different kind of work ethic than you'd find if you just assigned a paper. Because the finished looks and feels a lot more like a "real" product of some kind, and has the potential to be a visually appealing one at that, you may find that students put a bit more effort into it.
Paintings in these images were created by Gwenn Seemel. Licensed under CC BY 2.0.
So Many Possibilities
Once your students have learned how to create e-books (and there's a video below that shows them how), you can use this medium to have them create a massive array of projects. E-books could be assigned to a whole class or as a way to offer additional challenge to advanced students. Here's just a beginning list of ideas for student-created e-books:
Mini-Textbooks that teach a single concept or group of ideas from your course material.
Book Reports or analyses that take the reader through the most significant moments of a book, compare several books to one another, introduce a selection of works from one author, or look at a central theme (e.g., "Images of Fatherhood") as it is depicted in a collection of books.
Portfolios of a student's art, photography, writing, or poetry.
To get these templates, see the link at the end of this post.
Year-in-Review Books that explore concepts from the school year like lessons learned, best moments, special people, turning points, or important challenges throughout the year.
Children's Books that explore a concept learned in class or simply tell a good story.
Guidebooks offering advice and instructions for next year's students.
How-To Books that teach the reader something about which a student has some level of expertise (think informational writing!)
Collections where students curate their favorite books, movies, quotes, video games, apps, memories, or even photos of meaningful places, objects, or people.
Reflective Journals students keep and build throughout the year to document their growth or thinking on a particular topic.
Memoir-Style Books that document a student's journey through a Genius Hour or 20% Time project.
Club or Activity Books that chronicle the accomplishments of members of a sports team or club.
Professional Portfolios that could eventually be used as part of a job search. Teachers could also build their own professional portfolios in this same way.
How to Make an E-Book
If you have PowerPoint, which many, many people do, you already have all the tools you need to create an e-book. This video shows you how it works:
---
Get the Templates
The designs used to create the e-books in this post are available as individual PowerPoint templates or all together in a bundle. Each template also includes a link to the same template set up in Google Slides!! Click the image below to learn more:
---